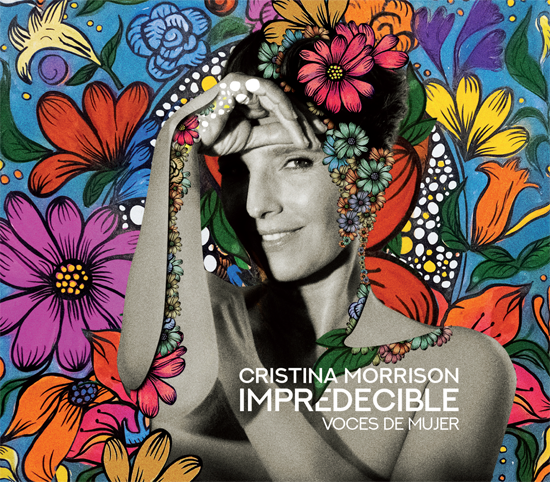 Impredecible Voces de Mujer, (Unpredictable, Women Voices), a re-interpretation of classic Latin American standards turned into vocal duets with Latin jazz arrangements by Misha Piatigorsky.
For her third record, Cristina's frequent collaborator pianist Misha Piatigorsky reimagined and arranged 11 standards from the Latin American Songbook, giving them the rhythms and feel of modern Latin jazz. Cristina invited five illustrious female singers to join her on vocal duets which brought out the emotional intensity of the lyrics and resulted in mutually inspired performances.
Featured guests:
LENA BURKE
MIRELLA CESA
MAGOS HERRERA
BARBARA MENDES
CONSUELO VARGAS
MISHA PIATIGORSKY: Piano, Keyboards, Arranger, Producer
JOSE ARMANDO GOLA: Bass
LUDWIG AFONSO: Drums
SAMUEL TORRES: Percussion
SAM QUIGGINS: Cello
The Cuban singer-songwriter Lena Burke (Latin Grammy Winner of the Year in 20011 for Best Pop Vocal Album or Duo) joins Cristina for a version of Pablo Milanés' "De que callada manera (How Quietly Way)," which has such picturesque lyrics as "How quietly way you go inside me smiling/As if it were spring." In addition, Ms. Burke returns for "Te extraño," a sad and heartfelt ballad by Mexican composer, Armando Manzanero, that is about the pain of missing someone after a love affair is over.
Mirella Cesa, a very popular star from Ecuador who is often billed as "the mother of Andi Pop" (Andean pop music), co-stars on the love song "El aguacate" and "Angel of Light" with the latter saying that everyone needs to be loved and should never be neglected. ("The lips that do not kiss are dead petals/They are hymns without notes, they are stars without light.")
Magos Herrera, who has been based out of New York since 2008, is considered one of the finest jazz singers to emerge from Mexico. Her 2018 album Dreamers in collaboration with Brooklyn Rider won the Grammy for Best Arrangement by Gonzalo Grau. Here, she teams up with Cristina on an extended version of "Besame Mucho" (which has been a famous song almost from the time that Consuelo Velazquez composed it in 1940) and "Dos Gardenias," Cuban composer Isolina Carrillo's bolero from 1945 that was revived by the Buena Vista Social Club in 1996. It is about giving two gardenias to one's love to represent their heart and yours. "
Barbara Mendes, who was born in Rio de Janeiro, has been a professional singer from the age of six and has been an influential force in the Brazilian music scene since the mid-1990s. She is featured with Cristina on the joyful "La Gloria eres tu" (about being in love including the lines "Because having you in life/I do not need to go to heaven") and two songs from Antonio Carlos Jobim: "Inutil Paisagem" (known in the U.S. as "If You Never Come Back To Me") and "Eu Sei que vou te amar ("I Know I Love You"), a romantic performance accentuated by the cello of Sam Quiggins.
"Sombras" (Shadows) by Carlos Brito has a special appearance by the veteran vocalist Consuelo Vargas from Argentina who is a major attraction in Ecuador. She and Cristina perform a dramatic rendition of a song about hopeless unrequited love which has such lyrics as "I would like to cut open my veins slowly, all my blood pouring out at your feet/To be able to show you that I cannot love you more."
Cristina Morrison takes the final song "En el breve espacio en que no estás," which is about not being sure if a lover will return, as a quietly emotional duet with pianist Piatigorsky. It is a perfectly suitable ending to a memorable project.
Now with the release of Impredecible: voces de mujer, Cristina Morrison has completed her most ambitious and successful project, collaborating with other notable singers, paying tribute to the tradition, and infusing a set of beloved songs with her own winning musical personality.